Built to stop erosion and handle heavy loads. Secure your next gravel driveway or paver base with geocell driveway gravel grids. made with industrial HDPE and rigorously tested. Our US Company ships orders within 24 hours. Now learn more…
BackyardBases is a USA-based company that specializes in industrial strength driveway ground grid products. Their geocell-style ground grids are designed to stabilize and reinforce the surface of driveways while remaining permeable. What sets our BaseCore apart is their smaller, stronger cells that are designed to take on more weight and pressure than traditional geocell grids. On top of that, BaseCore offers free shipping on all orders within the United States! So if you're looking for an industrial strength driveway grid solution with superior performance and free shipping, look no further than BaseCore.
What is a driveway gravel grid?
A driveway grid is a durable and flexible geocell structure designed to provide strength and support large loads with less material. The geocell consists of expanded sizes specifically made for driveways and other heavy-duty applications. It is easy to install and can be used with a variety of soil types. With its versatile design, it can be applied over existing surfaces or as an underlayment for gravel or pavers. Its unique honeycomb structure allows for better load distribution on any surface, making it ideal for heavy vehicles. Its lightweight nature also makes it very economical to transport and store, making it the perfect choice for any driveway application.
What are the benefits of using gravel grids for a driveway?
Gravel grids are an excellent option for driveways and parking areas as they provide numerous benefits. BaseCore geocell gravel grids help keep the gravel in place, stop erosion and runoff, and provide more stability than using a traditional paved driveway. They are also environmentally friendly and use less rock than traditional driveways, making them a cost-effective option. Additionally, the grids create great drainage and reduce the chance of ruts forming in the driveway, resulting in a much safer driving surface. As such, gravel stabilizer grids can offer great savings over traditional driveways while providing a strong base that is built to last for decades.
Construction and Installation of the Ideal Geocell Driveway
Constructing the ideal geocell driveway can be a complex process. We review the 6 simple steps to take into consideration and planning to ensure that it meets all requirements for a durable, long-lasting driveway.
Step 1: Preparing the driveway base
Preparing your driveway base is the key to a long-lasting, durable surface. The first step is scraping or leveling your driveway to ensure that it's raised evenly. Establishing a crown will help divert water off the surface of the driveway and keep it from pooling on top. After that, you should compact your base. This will create an even layer for the paving material to sit on top of. BaseCore geocell offers flexibility to conform to the current base, ensuring that your paving material sits evenly across the entire surface. Remember, using perforated BaseCore HD will help with effective drainage, keeping your driveway looking great for years to come.
Step 2: Selecting and Installing Geotextile
When selecting and installing geotextile, the most important thing to keep in mind is the purpose of the material. In this case, a 6 oz non-woven geotextile should be used to provide ground cover, prevent weeds and erosion, and stabilize your base. It is important to select an industrial strength product that is easy to install, with a width that makes installation simple and straightforward. This will ensure that you have the best protection for your project. UV resistant geotextile fabrics are designed for long life, so you can count on them to hold up against wear and tear over time. With proper installation and maintenance, they should provide reliable stabilization for years to come.
Step 3: Selecting the best Geocell Driveway Gravel Grid
When selecting the best Geocell grid for your driveway, there are several things to consider. First, review weld distances and analyze cell sizes to ensure that the correct height is chosen. A US company, such as BackyardBases where we offer BaseCore HD offers pre-made sizes made specifically for driveways so you don't have to trim them down. Easy installation is forefront when we design the BaseCore geocells.
The 3″ tall BaseCore HD with smaller cells provide superior strength and are in-stock for fast delivery. This makes them a great option for driveways with their perforations to support drainage both laterally and vertically. Remember: taller cells require more fill. With their reliable performance and quick delivery, BaseCore HD Geocell Grids is one of the top choices for quality products.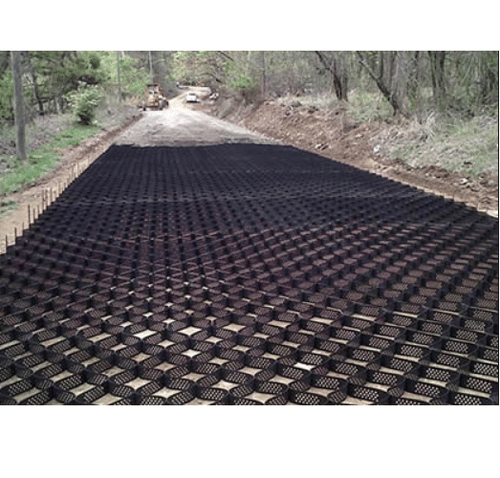 Step 4: Installing the Driveway Gravel Grids
Installing a geocell driveway grid is a relatively simple 1-2 person job. The first step is to determine the right amount of geocells needed for your project. You can use our website guide for this or contact one of our specialists who can help you determine exactly what you need. Once you have the right amount, open up all of the boxes from BackyardBases and start connecting the panels together using BaseClips. After that, expand the geocells after staking down the first one securely to the ground. In some instances you may want to also stake down the sides, as shown in this customer installation in Tennessee. This process should be repeated until you cover your entire driveway with geocells. The installation process is easy and straightforward but make sure that you take your time to ensure that everything fits perfectly. Following this process will ensure that your driveway grid looks great and lasts for many years to come.
Step 5: Selecting and installing the gravel
When selecting gravel for a driveway, the key is finding the right type of aggregate. Angular gravel aggregates are best because they compact tightly together and offer a variety of sizes. Customers have used 1/4″ minus, recycled concreted or asphalt, local materials, and larger aggregates. It's important to order the correct amount so that you don't run short or have excess material left over. You can locate calculators online or ask our specialist to provide you with an estimate for your driveway project.
Finding an affordable aggregate is also essential; a good option is to check out your local quarry for competitive pricing and suggestions they may have for your driveway. Once all the fill material is delivered, start at one end and dump it, then once your geocells are covered your truck or loader can drive successfully on the BaseCore grid. With careful planning and preparation, you can select and install the best fill material without breaking the bank.
Step 6: Compacting
Compacting gravel for a driveway is an important step in making sure that your driveway remains solid and the aggregate remains in place. The two primary pieces of equipment used to compact gravel are plate compactors and rollers. Plate compactors are best for small areas, such as walkways, while rollers are better for larger areas to ensure that the gravel is properly compressed. If you don't have access to either of these pieces of equipment, you can rent them from your local hardware store or rental center. Additionally, many professionals use water trucks when compacting gravel driveways, as this helps to ensure that the BaseCore gravel is well hydrated before it is compressed. This can help prevent any shifting or displacement after the compaction process has been completed.
Common Questions About Geocell Driveway Gravel Grids
What is the purpose of a gravel grid?
A gravel stabilizer grid, also known as a ground grid or geocell, is an effective measure for preventing both erosion and puddles from forming on surfaces with loose aggregate. Gravel grids are made out of sturdy material that can securely hold the gravel in place and prevent any ruts from forming over time. The grid helps to evenly distribute the gravel across the surface, which will stop any mud from forming in areas with excessive moisture. Besides providing a better aesthetic look, it also effectively prevents the risk of flooding due to pooling water; this is especially beneficial when used on slopes or inclines. Ultimately, by creating a level and stable surface, these grids provide an ideal way to prevent soil erosion while allowing for proper drainage and stability at the same time.
Can you use geocells to create grass driveways?
Geocells are an ideal solution for those looking to create a modern and environmentally friendly grass driveway. They provide stability, industrial strength and support heavy loads, making them the perfect choice for eco-friendly parking. Geocells can be filled with soil and planted with grass, allowing you to create a beautiful driveway that is both safe and secure. Geocells are an ideal choice for anyone looking to create a modern, environmentally friendly and durable driveway.
Why are flexible BaseCore geocells better than fixed driveway gravel grid panels?
BaseCore geocells are a great option for creating durable, cost-effective and eco-friendly surfaces. They are flexible and can be trimmed to fit perfectly with any ground contour. Installation is easy, as the cells can be cut to the desired size with a utility knife. The cells also come in perfect sizes so that they can easily be installed without needing to be trimmed. Additionally, BaseCore geocells use less plastic than fixed grass grids or grid pavers making them more eco-friendly. Despite using less plastic, these geocells can still support substantial loads – making them ideal for heavy traffic areas. All in all, BaseCore geocells are an excellent choice for anyone looking for an easy-to-install and eco-friendly surface solution that will easily conform with the ground contour.
How long does geogrid last?
Used by the military, geogrids are an essential material used in construction engineering to provide stability and strength to soils. US Company BackyardBases.com offers BaseCore HD geogrids that have been tested under heavy loads and guarantee a long-term duration of at least 100 years or more for your driveway and other backyard projects. The longevity of the geogrid is assured due to the quality manufacturing, testing and high-quality polypropylene materials that make up its structure. These materials are designed with the latest advanced technology and are capable of withstanding extreme weather conditions.
Is it cheaper to pave or gravel a driveway?
When it comes to driveways, there are two main options: paving or gravel. The average geocell driveway costs less than $2/foot * vs average driveway paving costs $10-30 depending on the sub-base requirements and material. Gravel driveways offer similar benefits to paving like preventing erosion, supporting drainage, preventing ruts and having a more modern and natural look. It is also important to secure the gravel with geocell grids which can help hold the stones in place and keep your driveway looking neat. Overall, both paving and a gravel driveway have their own unique advantages but with the right tools, you can make sure that your gravel driveway remains secure and looking great for years to come.
*(may vary based on fill material and use of geotextile)
Where can I find the cheapest gravel grid?
To get the best driveway grid system, look no further. The BaseCore HD allows you to use: 1) less gravel as the BaseCore HD can handle more load in less height 2) less man hours as the BaseCore HD expanded sizes are pre-made to fit driveway sizes and 3) easy to use and long-lasting BaseClips allow for easy panel connection and hold update for decades longer than other panel connectors like zip ties. You can find the cheapest gravel grids and save on your overall project costs with BaseCore HD.